Range Trading Basics for Forex
Article Summary: Forex trading ranges can provide excellent opportunities for technical traders. Learn the basics of range trading using existing support and resistance levels.
Market ranges occur when a currency pair lacks a specific directional trend. Instead of being deterred by sideways pricing, traders should take advantage of the clear defined trading levels to place new entry orders. Today we will review a basic range trading strategy using easily definable pricing levels and profit targets.
The first step to finding a range is to identify support and resistance on your chart. These pricing levels can be found by connecting a series of recent of market highs and lows using horizontal lines. Resistance is the current ceiling on price and can be seen on the GBPUSD chart below near 1.5600. Support is the current markets pricing floor which stands at 1.5500, creating a 100 pip trading range on the pair. These points will be the basis for our strategy, and should be clearly marked on our chart before moving further.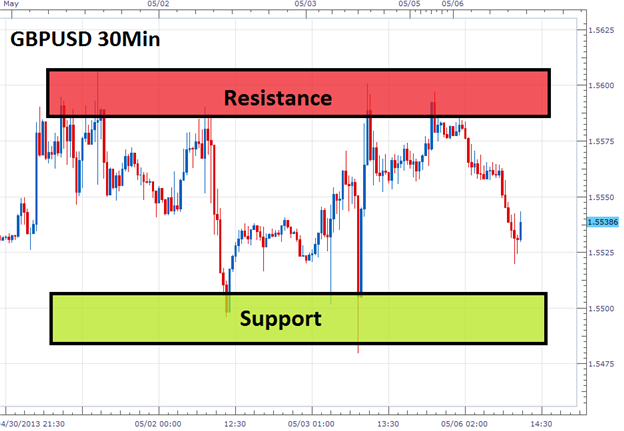 (Created using FXCM's Marketscope 2.0 charts)
Next, once support and resistance have been updated and a trading range identified, we can begin to prepare our trading strategy. Since price is moving sideways between pricing levels, traders may look to take a non-bias market approach and either buy or sell the market without having a preference to a specific order type. The key is to wait till the market reaches support or resistance before trading.
With price trading in the center of our range, it is best to wait for a better price before trading. If price moves to resistance at 1.5600 traders will look to sell the market. If prices trade to 1.500 first, traders will want to buy the GBPUSD. Both of these orders can be placed simultaneously through the creation of an OCO (One Cancels the Other) order. That way we will be prepared to buy or sell regardless of the direction of the market. In the event our sell order is activated, our OCO will eliminate or buy order; with the opposite holding true in the event our buy entry is activated at support.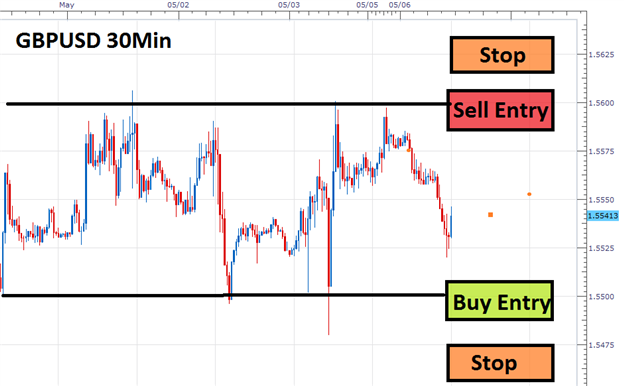 (Created using FXCM's Marketscope 2.0 charts)
Lastly, it is important to remember that eventually price will break through our marked levels of support and resistance. For this reason range traders should always keep stops in place on their positions. In the example above, stops have been placed 25 pips away from our entries and represents a value that is equal to a quarter of the value of our range. If profit targets are set 100 pips away at the alternate level of support or resistance, this would create a Risk:Reward profile of 1 to 4 on the trade.
Would you like dozens of trade ideas every day with updated charts to identify major levels support and resistance on the currency pair you're trading?
If so, click here to learn more about our Technical Analyzer on DailyFX Plus.
DailyFX provides forex news and technical analysis on the trends that influence the global currency markets.