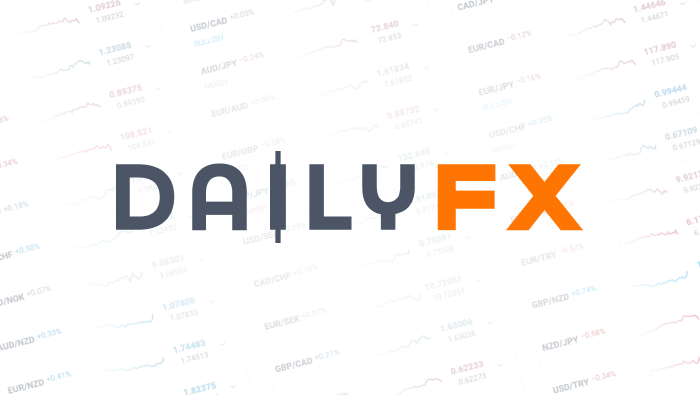 2.5 Reasons to Be Bullish GBP/JPY with A Focus on a Break Above 147
Spot

: 144.45 Japanese Yen per British Pound

Entry Zone

: Break and close above 147.05 Japanese Yen per British Pound

Invalidation Point

: 143.5 Japanese Yen per British Pound (corrective pivot point)

Target 1:

150.60 Japanese Yen per British Pound (1:1 Risk: Reward), 355 pips of reward sought

Target 2:

156.60 Japanese Yen per British Pound (2018 top), 955 pips of reward sought
Backstory on Pending Bullish GBPJPY
Sharp moves cause technical trades to take note. Elliott Wave traders tend to look at these moves as the start of an impulsive move that can have followed through that will lead to opportunities to trade in the direction of the trend. Fundamental-focused investors can see a sharp move as a shift in the underlying thesis of a market.
In other words, the perception has changed rather than a contradiction taking place in the markets.
Trading the British Pound is a bet on Brexit (which is dicey,) with high-Beta (sensitivity to a benchmark.) On Wednesday, the GBP was volatility due to a Bloomberg report that originally surfaced noting that:
Germany is ready to accept a less detailed agreement on the UK's future economic and trade ties with the EU in a bid to get a Brexit deal done, according to people speaking on condition of anonymity because the discussions are private. The UK side is also willing to settle for a vaguer statement of intent on the future relationship, postponing some decisions until after Brexit day, according to an official who declined to be named.
This report was contradicted with the following a few hours later:
GERMAN GOVT SPOKESMAN SAYS GOVT POSITION ON BREXIT IS UNCHANGED (Reuters)
My take on this trade is more technical than geopolitical as the effects that supposed partial-Brexit deals will have on the GBP continue to be a major source of uncertainty.
Either way, a break above the bearish channel at 147.05 JPY per GBP would be a bullish technical development after a Strong bounce on the 50% retracement of the 2016-2018 range that could have strong follow through with well-defined risk.
JPY Has Strengthened, But A Channel Break May Lead To Further Upside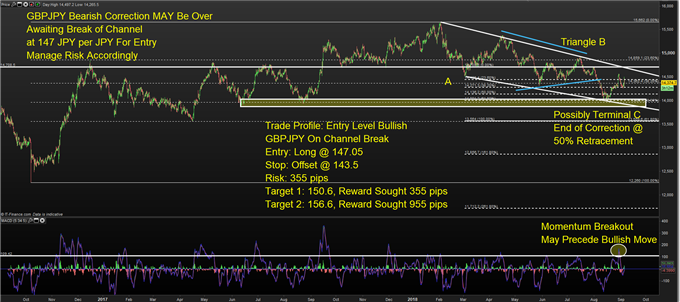 Chart Source: Pro Real Time, an IG Charting Package, IG UK Price Feed. Created by Tyler Yell, CMT
For traders that want a fundamental theme to back the trade, I'll give you two and a half.
First, the Bank of Japan made a significant, albeit quiet adjustment to their monetary policy when they said they'd allow/ embrace a higher upper band for Japanese Government Bonds (JGB) 10-year yields from 10bps to the 20bps, and that may not be the final destination. This massive shift in BoJ policy of Yield Curve Control (YCC) is happening at a time when Japanese data is on the upswing, and JGBs are more data-dependent than they've been since 2012.
Hard To Hate CrossJPY Long If JGB Yields May Push Higher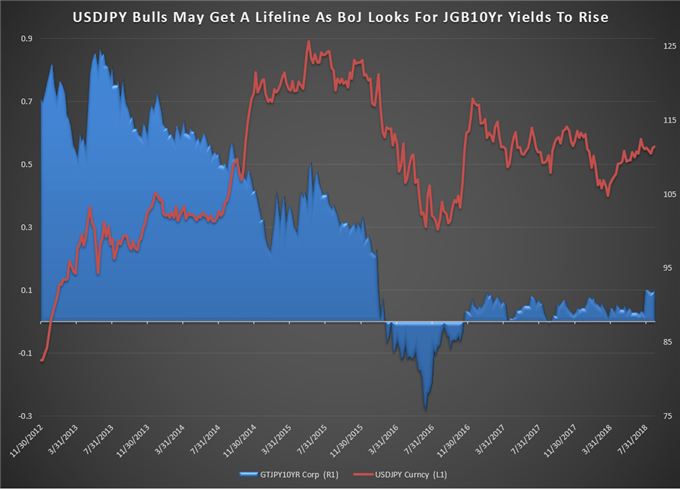 Data source: Bloomberg
The chart above is designed to illustrate the point that when JGB 10Yr yields (blue area) have moved lower, the Yen has strengthened. As the JGB yielded positive again, the pair rose. Now that the BoJ is embracing a higher yield (i.e., they won't step in to buy and keep a lid on yields), Japanese Yen crosses could be supported for further gains.
Second, Japanese Elections in October looks set to give Shinzo Abe another victory, which should temper in risk-off repatriations flows and further support Japanese Yen weakness.
The half of one reason is a GBP-positive Brexit outcome. The market seems determined to bid GBP higher in that a development on Brexit hits the wires, and GBP is bid. When the earlier wire is disregarded, GBP is not offered as aggressively or down to the level before the previously.
It's also worth noting if you give credence to Elliott Wave that an impulsive move has taken form off the 50% retracement that I've marked as a possible terminal wave – C before the bullish rally emerges.
A break of 147.05 would help validate this bullish view.
We'll see.
New to FX trading? No worries, we created this guide just for you.
---Written by Tyler Yell, CMT
Tyler Yell is a Chartered Market Technician. Tyler provides Technical analysis that is powered by fundamental factors on key markets as well as t1rading educational resources. Read more of Tyler's Technical reports via his bio page.
Communicate with Tyler and have your shout below by posting in the comments area. Feel free to include your market views as well.
Talk markets on twitter @ForexYell
DailyFX provides forex news and technical analysis on the trends that influence the global currency markets.