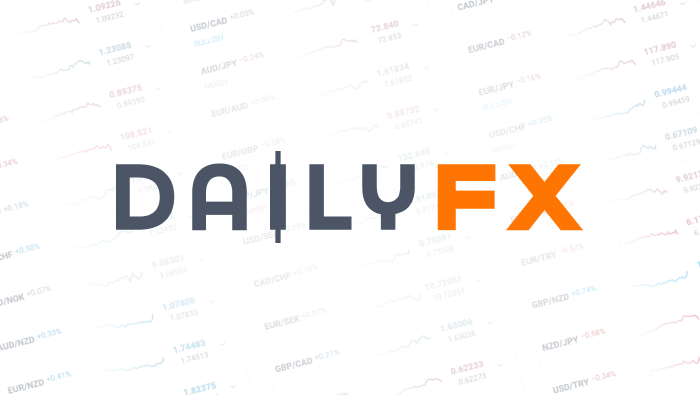 US Dollar Index Nears Decision Point in Elliott Wave Pattern
The current Elliott Wave for US Dollar Index appears to be a terminal wave. We are anticipating a US Dollar reversal below 96.03.
The US Dollar rally that began in February 2018 appears to be nearing a terminal point. We have been tracking an Elliott Wave ending diagonal pattern since July 23 and the pattern has advanced far enough to wade into a trade.
Short Entry: 95.60 - 96.03
Stop Loss: 96.05
Target: 93.28 (beginning of diagonal on June 14)
Risk to Reward Ratio 1 to 5
(We studied millions of live trades to find what makes some traders successful over others. Risk to reward ratios was a common trait so we used that in our Traits of Successful traders research.)
When trading, I am looking for specific and identifiable patterns where I get a good shot at a good risk to reward ratio.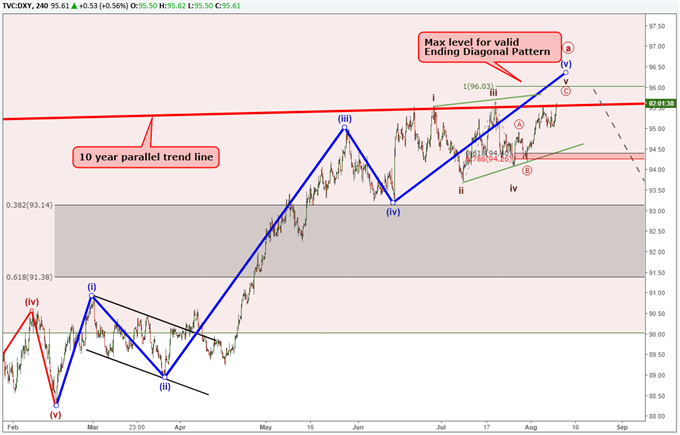 What Elliott Wave are we in now?
Our higher probability Elliott Wave count is that US Dollar Index is rising in a fifth and final wave of an ending diagonal pattern (US Dollar in a terminal wave). This diagonal pattern would make up the fifth and final wave of a bullish Elliott Wave impulse that began in February 2018. We are considering this bullish impulse wave to be wave 'A' of a larger sequence. Therefore, the current wave is considered wave v of (v) of 'A'.
Diagonal pattern within an Elliott Wave impulse, so what?
Ending diagonal patterns are one of my favorite Elliott Wave patterns to trade. This is due to the fairly tight stop losses and risk one can place on the trade relative to the reward. In this situation, the risk to reward ratio is strong at 1 to 5.
Remember, just because the risk to reward ratio is strong does not mean the trade will work out. However, winning trades with strong risk to reward ratios can make up for several losing trades (assuming similar risk).
The reason the risk to reward ratios are tight is due to one of Elliott Wave's rules. More specifically, wave 3 cannot be the shortest of waves 1, 3, and 5.
For DXY, we can see how the proposed third wave is shorter than wave one. Therefore, if we map out the length of wave 3 and project it at the beginning of wave 5, we can establish a maximum price level the ending diagonal pattern would allow. In this case, so long as US Dollar Index remains below 96.03, then the ending diagonal pattern remains the higher probability option.
If 96.03 is broken, then the ending diagonal pattern as labeled is voided, as wave 3 would be the shortest waves of one, three, and five.
EURUSD short trade continues
Earlier this week we closed out half of our short EURUSD trade as the probabilities were shifting towards a near term bounce in EURUSD. The stop loss on the short EURUSD trade was set at 1.1750. Additional targets for EURUSD remain at 1.1350, 1.1200, and 1.1100. Therefore, with today's analyst pick, we are adding a short DXY position to the remaining short EURUSD position.
Elliott Wave Theory FAQs
How does Elliott Wave theory work?
Elliott Wave Theory is a forex trading study that identifies the highs and lows of price movements on charts via wave patterns. Traders often analyze the 5-wave impulse sequence and 3-wave corrective sequence to help them trade forex strategically. We cover these wave sequences in our beginners and advanced Elliott Wave trading guides.
How else could you trade Elliott Wave diagonal patterns?
As alluded to above, ending diagonal patterns are one of my favorite patterns to trade. This is because we have a defined area to establish a stop loss and our profit target is generally multiple times the size of our risk.
We created this four step guide to trade the diagonal pattern and it is based on using the pattern's wave 5 extreme as the risk level while targeting the origination of it.
New to FX trading? We created this guide just for you.
---Written by Jeremy Wagner, CEWA-M
Jeremy Wagner is a Certified Elliott Wave Analyst with a Master's designation. Jeremy provides Elliott Wave analysis on key markets as well as Elliott Wave educational resources. Read more of Jeremy's Elliott Wave reports via his bio page.
Do you agree/disagree with Jeremy's Elliott Wave count above? Include your comments and Elliott Wave chart in the comments section below.
Discuss this market with Jeremy in Monday's US Opening Bell webinar.
Follow on twitter @JWagnerFXTrader .
DailyFX provides forex news and technical analysis on the trends that influence the global currency markets.