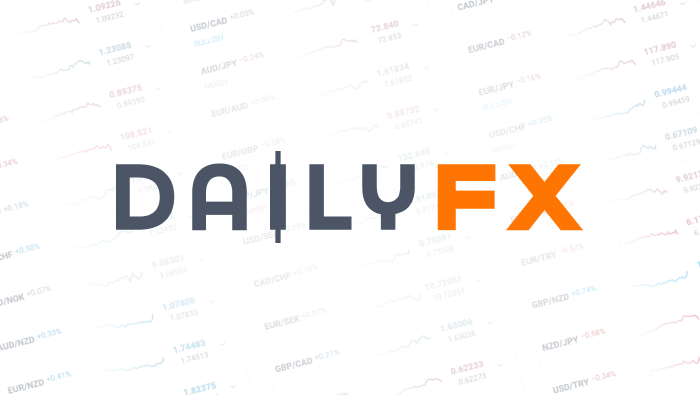 EUR/USD Celebrates to Highest Level in 3 Years; The Party May Not Last
What's on this page
EUR/USD price has rallied as the German coalition breakthrough relieves some political worries. However, EUR/USD has reached 1.22, which is a level of long-term significance we identified through the Elliott Wave principle back in September 2017. Our Elliott Wave analysis suggests a large trend lower begins from nearby levels.
On Thursday, we highlighted how the Elliott Wave analysis on EUR/USD showed the three year bullish pattern nearing an end. In fact, this pop higher to 1.22 is not a surprise as we identified its potential back in September:
From a shorter term perspective, if the wave labeling is correct, then we anticipate a shallow correction back to the 1.16 handle followed by another retest of the 1.20 high to finish off the fifth and final wave of the sequence. I wouldn't be surprised to see this fifth wave work higher to 1.22 as a couple wave measurements appear in that vicinity.
EUR/USD Elliott Wave analytical article – September 4, 2017
EUR/USD did eventually bottom on November 7 at 1.1554 creating the fourth wave of the impulse wave pattern. This fifth wave higher is shaping as an ending diagonal pattern.
How Elliott Wave Theory identified 1.22 as important
We will review the significance and wave relationships appearing near 1.22.
50% Fibonacci retracement of May 2014 to March 2015 downtrend is at 1.2232
Wave 'C' of the three year

expanded flat pattern

is 1.618 times wave 'A' at 1.2207
Circle wave 'v' of the impulse wave that began January 2017 is .382 times waves 'i' through 'iii' at 1.2215
EUR/USD Elliott Wave Count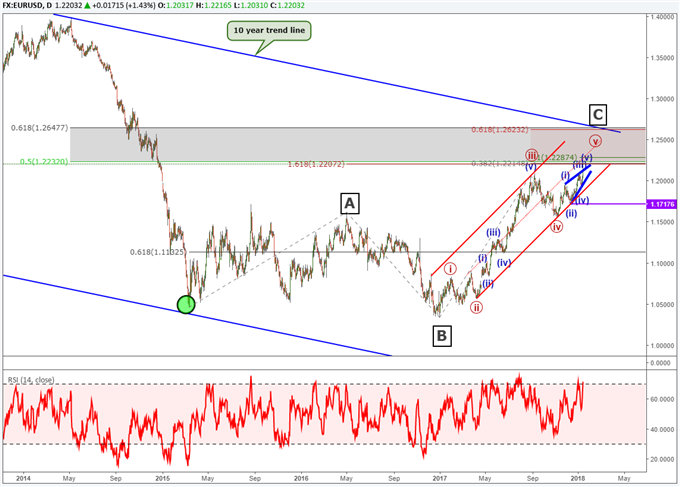 Therefore, we are expecting a reaction lower from nearby levels to take place. If our Elliott Wave analysis were correct, then the ending diagonal pattern would need to terminate below 1.2288. As a result, this sets up a short trade opportunity.
The EUR/USD Elliott Wave trade set up
Shortly after trading resumes on Jan 14, if EUR/USD has not gapped up and through 1.2288, then we will establish a short position.
Entry: Short at market below 1.2288 – if EURUSD has gapped above 1.2288 then no trade
Stop Loss: 1.2288
First Target: 1.1554 (Risk to reward nearly 1 to 6)
Secondary Target: 1.12 (Risk to reward nearly 1 to 10)
Third Target: Open with a manually trailed stop loss
This will be the first time we have flipped our bias on EUR/USD since May 2017 when the pair was trading near 1.1252. On May 22, we flipped to a bullish bias as several key levels were broken and we have remained bullish until today.
If EUR/USD breaks above 1.2288, then we will consider other alternative patterns that include a double zigzag pattern within wave (i) or (iii) of the ending diagonal. Essentially, a break above 1.2288 stretches out the diagonal pattern and delays its termination. However, the resolution of the ending diagonal pattern remains the same in that a bearish turn is looming nearby.
Elliott Wave Theory FAQ
"I hear that a lot of traders struggle with profitability, why?"
Regardless of the style of analysis, many traders do lose money because they do not take the time to study the market and the effect of leverage. At DailyFX, we have studied millions of live trades and boiled our study down into a Traits of Successful Traders guide. You will find how leverage and human nature affects our trading so you can implement tactics like ones described in the trading idea above.
Where can I learn more about Elliott Wave ending diagonal patterns and how to trade them?
Ending diagonals are one of my favorite patterns. They are five wave patterns that many times a tight stop loss is placed and ending diagonals can precede big moves. You can learn more about it and other Elliott Wave patterns in our beginner and advanced Elliott Wave guides. In addition, I have a one-hour webinar recording devoted to Elliott Wave diagonal patterns.
New to FX trading? We created this guide just for you.
---Written by Jeremy Wagner, CEWA-M
Jeremy Wagner is a Certified Elliott Wave Analyst with a Master's designation. Jeremy provides Elliott Wave analysis on key markets as well as Elliott Wave educational resources. Read more of Jeremy's Elliott Wave reports via his bio page.
USD/JPY and as well as EUR/JPY, GBP/JPY, and AUD/JPY were markets discussed in Jeremy's January 3 webinar forecasting 2018 trends. Watch a recording by registering here.
Discuss this market with Jeremy in Monday's US Opening Bell webinar.
Follow on twitter @JWagnerFXTrader .
Join Jeremy's distribution list.
Recent Elliott Wave articles by Jeremy:
Will USD/JPY Break its Trading Range?
2018 Forecast for EUR/AUD, GBP/AUD and AUD/JPY
Can Swiss Franc Outperform its Peers in 2018?
Bulls Excited About GBP/JPY Longer Term Elliott Wave Pattern
DailyFX provides forex news and technical analysis on the trends that influence the global currency markets.