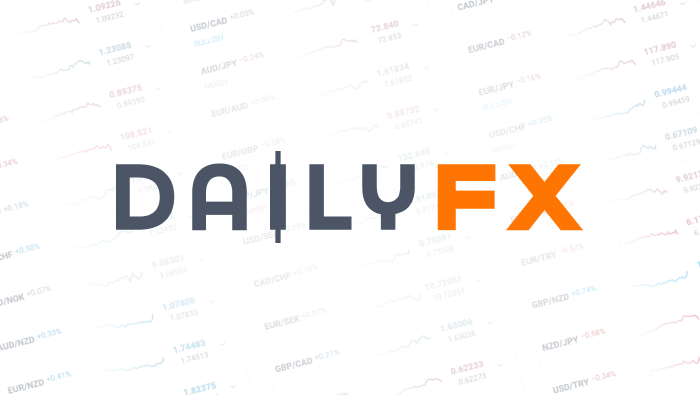 Bullish USD? USD/NOK Pivots At Common Wave Relationship
Last week, USD/NOK reached a 1.618 extension level near 7.8946. It is common for alternating waves to be of Fibonacci or equality proportions. Therefore, the 1.618 relationship tips the pattern towards being an imcomplete impulse. In Elliott Wave theory, the wave to July 31 low may have finished the third wave of a five wave impulsive sequence. The Elliott Wave model implies a bullish move in the market in fourth wave. The bullish move may take the shape of a flat or triangle to alternate shape with the second wave (which is common).
Fourth waves of impulses tend to retrace approximately 38% the length of the third wave. As a result, this rally might work itself up towards 8.10. One of Elliott's rules in the theory is that wave 4 of an impulse cannot overlap wave 1. (Learn more about the impulse wave by viewing this one hour webinar recording.)
USDNOK Turns at 1.618 Wave Relationship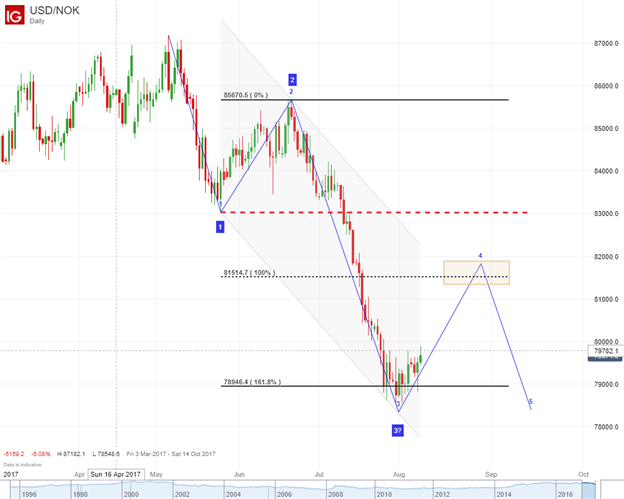 Therefore, the May 2017 low of 8.30 is a key level to watch. A move above 8.30 creates overlap with wave 1 and invalidates the impulse as labeled. A move above 8.30 implies stronger prices ahead for USD/NOK.
Bottom line, US Dollar has been in a bear trend for a while. If traders are wanting to trade the bullish side, USD/NOK may be a better choice as an upward correction for this market appears to be on the horizon.
Are you experiencing inconsistent results with your trading? This could be why.
For a longer term forecast for US Dollar, grab the Q3 forecast here.
---Written by Jeremy Wagner, CEWA-M
Other recent articles by Jeremy:
Crude Oil Prices Stuck in a Triangle Consolidation
Follow on twitter @JWagnerFXTrader .
Join Jeremy's distribution list.
DailyFX provides forex news and technical analysis on the trends that influence the global currency markets.