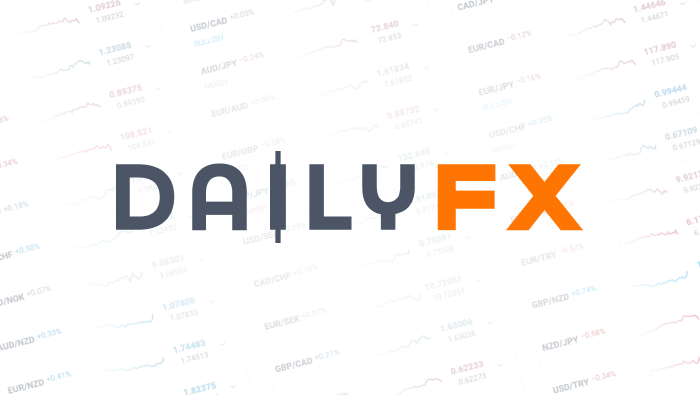 GBP/USD Sentiment Turns Negative First Time in 5 Months
Sterling has caught my eye today from a sentiment and technical perspective.
Trader positioning in GBP/USD has just flipped negative for the first time since November 2015 and currently sits at -1.07. This is a result of retail traders reducing their long positions and initiating more short positions. This is a headwind to the short bias below. However, if current market conditions are parallel to what happened in November, we saw GBPUSD continue a strong downtrend and sell off heavily after that negative flip.
(See GBPUSD real time trader positioning here.)
[Image 1]
From a technical perspective, GBP/USD has been carving symmetric and measured moves since the February 29 low at 1.3836. This doesn't mean that moving forward the waves will continue to be symmetric, but it does help us focus on some higher probability patterns at play.
As it stands, we're looking for this push higher to terminate near current levels as we have a confluence of resistance showing up near 1.4400-1.4440. Ideally, any movement higher terminates below the March 18 high of 1.4515.
With the good technical set up and a strong risk to reward ratio, these types of set ups earn my attention.
Market Interpretation
Market Condition: Retracement
Bias: Short GBP/USD
Entry: Near 1.4387
Stop Loss: Near 1.4520 (-133 pips)
First Target: Near 1.4120 (+267 pips)
Second Target: Near 1.3860 (+527 pips)
GBP/USD Struggles Near Measured Resistance
[Image 2]
Let's unpack a couple of these symmetrical waves.
First, during the February 29 to March 18 uptrend, circle c and circle a are equal in length. We have this entire uptrend wave labeled as a red 'A'.
Then, during the March 18 to April 6 downtrend, again, circle c and circle a are equal in length. We have this entire downtrend wave labeled as red 'B'.
On the most recent uptrend starting on April 6, we have multiple wave measurements showing up in a tight zone suggesting prices may struggle and possibly repel lower.
Circle y = circle w near 1.4433
Red 'C' = .618 * red 'A' (this is a common wave relationship) = 1.4425
There is a smaller time frame relationship showing up at 1.4402 and could stretch as high as 1.4437.
As a result, we have 3 different measurements showing up in the 1.4402-1.4437 price zone.
This analysis becomes incorrect on a break above the March 18 high of 1.4515.
The first target is established near 1.4120 which represents approximately 61.8% the length of red 'B'. The secondary target is the February 29 low near 1.3860.
You'll notice above how the first target is about twice the distance to the stop loss. We've researched millions of trades and found that almost half of the traders (43%) turned a profit when implementing this simple technique of a positive risk to reward ratio. This is something that every trader has control over. Learn more about that tweak in pages 13-14 of the Traits of Successful Traders Guide [free registration].
Still not sure about the direction of the GBP/USD? Consider downloading and reading our USD quarterly forecast which was just released and available here.
To receive additional picks or articles on using Elliott Wave Theory, join Jeremy's distribution list.
DailyFX provides forex news and technical analysis on the trends that influence the global currency markets.