DailyFX.com has many resources to help you get started in your trading. Out of all of them SSI(Speculative Sentiment Index) stands out. Essentially SSI is a ratio that gives us a picture of trader positioning. SSI reveals if traders are net long or short and if so by how much. Below we can see the current SSI ratios posted on DailyFX.com. If clients are net short a currency pair SSI will be negative, and if clients are net long the number will be positive. We can see that SSI for the EURUSD is currently set at -1.41. This ratio means that traders are net short with 1.41 traders short compared to every long.
So now that we know how to read SSI, let's discuss how it can be used in our trading.

Trading SSI
Normally the majority of Forex traders look to fade momentum in their strategies while attempting to pick tops and bottoms of the market. That means that more often than not, we see most traders place sell orders into extended rallies, and buy into market declines. Because of this, SSI is often considered a contrarian indicator. Savvy traders that review SSI can then proceed to look for busy signals when SSI is net long or buy when SSI net short for a specific currency pair. Let's take a look at an example of SSI at work.
Below we can see a prime example of SSI at work again on the EURUSD. Going back to the start of the year, we can see that positioning was continually net short through the beginning of March. However by taking a look at the price graph, we can see that the pair rallied over 500 pips during this same time period! Price did eventually turn and head back lower but at the same time, that is when we see short positions level off and the volume of buyers increase.
Learn Forex – Current EURUSD SSI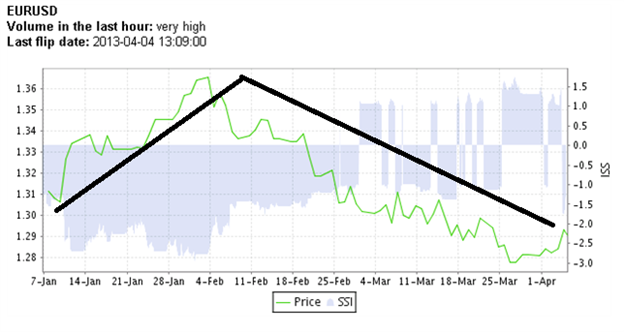 Next: IG Client Sentiment (62 of 63)
Previous: Sentiment Analysis for Forex