NFP Talking Points
Non Farm Payrolls (NFP) creates volatility in the markets.
NFP measures net changes in employment jobs.
Trading the news.
Non Farm Payroll Data
The US economic calendar is stacked with many events throughout the month but none is more anticipated that the release of Non-Farm Payroll figures. Non-Farm Payrolls also known as NFP, is reported monthly by the US Bureau of Labor Statistics to give a timely glimpse into employment changes inside of the United States. Ultimately this report can give traders insight into whether the US economy is expanding or contracting while directly influences the decisions of policy makers such as the US Federal Reserve. With this in mind let's take a closer at this news event, so we can better understand NFP and its potential impact on marks.
First, NFP looks specifically at net changes in employment as jobs are created or subtracted in an economy in any given month. The term Non-Farm is used since farm / agricultural workers are not included in the employment count. The decision to not include agricultural jobs lies in these jobs being largely seasonal that could possibly produce small temporary shifts in labor reporting. For this reason certain government employees, private household employees and nonprofit organization are also not included in the count. Below we can see a composite of past NFP events for the last 5 trading years (2012-2017). As the image below displays, NFP figures are known to have significant swings. Traders often speculate on these changes in NFP figures, which often causes market volatility on the day of their release. Let's look at a particle market example.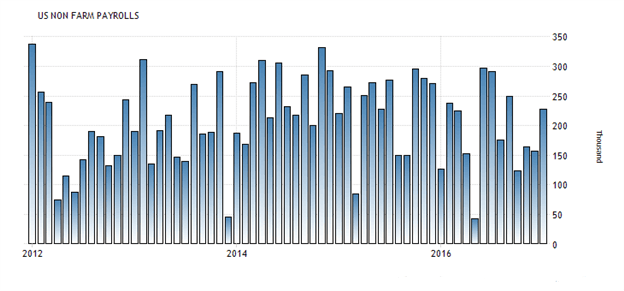 As the most comprehensive employment number released in the United States, NFP numbers have been known to produce volatility in the Forex Market. Below we can see what occurred during last month's NFP release on a USD/JPY 5min chart. NFP was released at 8:30 am ET and the numbers came out at 227k, significantlybetter than initial expectations of 180k. During this time the USD/JPYdeclined as much as 91 pips in the first 5 minutes of trading.Over the course of the next 2 hours, the USD/JPY eventually fell as much as 113 pips!
Trading the NFP Release
Traditionally there are many ways of trading the news including breakouts , news fades, and trading market dips. You can choose which strategy to use when trading the NFP. Trading NFP can be an exciting and often profitable pursuit for traders willing to enter into a volatile market. Regardless of the strategy taken, it is always important to keep an eye on risk / reward levels while minimizing the use of leverage in case the event volatility moves the market against your trade. With this in mind, traders should expect increased volatility and plan their strategy for the day accordingly.
(Created Using IG Charts)
Frequently Asked Questions (FAQS)
What are other important data releases?
While the NFP generally moves the market, data like CPI (inflation), Fed funds rates, and GDP growth are important data releases too. If you want to know more about trading the news, download the free Forex News trading guide. You can keep up to date on economic data releases using an economic calendar.
Next: NFP The Monthly Market Mover (22 of 63)
Previous: How Forex News Traders Use ISM Numbers