What's on this page
Like many professions, trading involves a lot of jargon that is difficult to follow by someone new to the industry. This article will outline what it means for a currency pair to be overbought or oversold, and what trading opportunities arise from these situations.
Overbought vs Oversold talking points:
Overbought means an extended price move to the upside; oversold to the downside
When price reaches these extreme levels, a reversal is possible
The

Relative Strength Index (RSI)

can be used to confirm a reversal
OVERBOUGHT VS OVERSOLD
These two terms actually describe themselves pretty well. Overbought defines a period of time where there has been a significant and consistent upward move in price over a period of time without much pullback. This is clearly defined by a chart showing price movement from the "lower-left to upper-right" like the chart shown below.
LEARN FOREX: USD/CAD HOURLY CHART – OVERBOUGHT
The term oversold illustrates a period where there has been a significant and consistent downward move in price over a specified period of time without much pullback. Essentially, a move from the "upper-left to the lower-right" – see chart below.
LEARN FOREX: AUD/JPY WEEKLY CHART – OVERSOLD
Since price cannot move in one direction forever, price will turn around at some point. Currency pairs that are overbought or oversold sometimes have a greater chance of reversing direction however, could remain overbought or oversold for a very long time. Therefore, traders need to use an oscillator to help determine when a reversal could occur.
OVERBOUGHT OVERSOLD INDICATOR READINGS WITH RSI
There is a quick tool traders can use to gauge overbought and oversold levels, the Relative Strength Index (RSI). The premise is simple, when RSI moves above 70, it is overbought and could lead to a downward move. When RSI moves below 30, it is oversold and could lead to an upward move.
RSI OVERBOUGHT AND OVERSOLD LEVELS: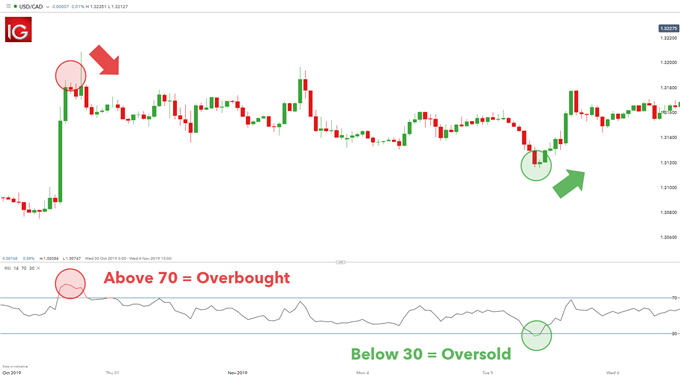 Traders need to be patient before entering trades using the RSI as on occasion the RSI can stay overbought or oversold for a prolonged period as seen on the chart below. A common error made by traders is attempting to pick a top or bottom of a strong move that continues to move further into overbought or oversold territory. The key is to delay until the RSI crosses back under the 70 or over the 30 as an instrument to enter.
RSI PROLONGED OVERBOUGHT AND OVERSOLD SIGNALS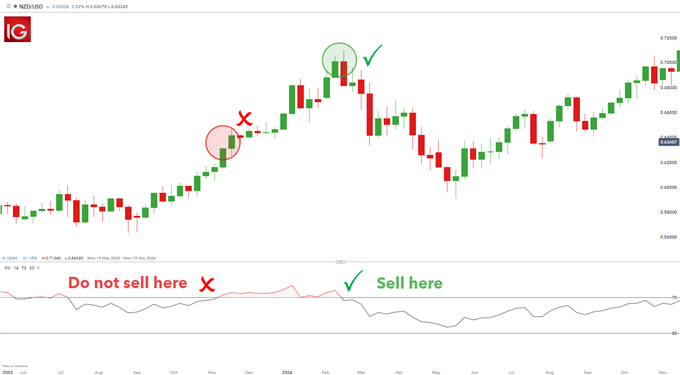 The image above shows the RSI clearly breaking above the 70 level resulting in an overbought reading, but a seasoned trader will not look to immediately sell because there is uncertainty as to how far price could continue to rally. Traders ideally will wait until the RSI falls back below 70 and then place a short trade. This gives a better entry and a higher probability trade. When the RSI falls below 30, same rules apply.
FREQUENTLY ASKED QUESTIONS (FAQs)
How reliable are overbought and oversold signals?
Overbought and oversold signals as a solitary signal is not entirely reliable. Think of building a house; a builder is reliant on a hammer but as an isolated tool, the hammer is worthless when building an entire house. Other tools will be needed in conjunction with the hammer for construction – saw, drill etc. The same concept relates to overbought/oversold signals which requires complimentary tools to strengthen the signal, and eventually allow traders to make sound trade decisions. For example, trend identification, risk management and sentiment are useful tools that help compliment overbought and oversold signals.
What can traders do to strengthen/support overbought and oversold signals?
There are several common tools that can be used to compliment overbought and oversold signals. Below is a list of tools that can enhance your trading decisions:
Identify the

trend

– Filtering for the trend can aid traders in selecting entry points using overbought and overbought signals. For example, in an uptrend traders will filter for oversold signals as 'long entry' points which correlate to direction of the trend. The opposite will apply to a downtrend.

Risk management

– Using proper

risk-reward

ratios which relate to stop and limit levels should be adhered to.

Sentiment

- Utilize client sentiment data to further verify overbought and oversold signals.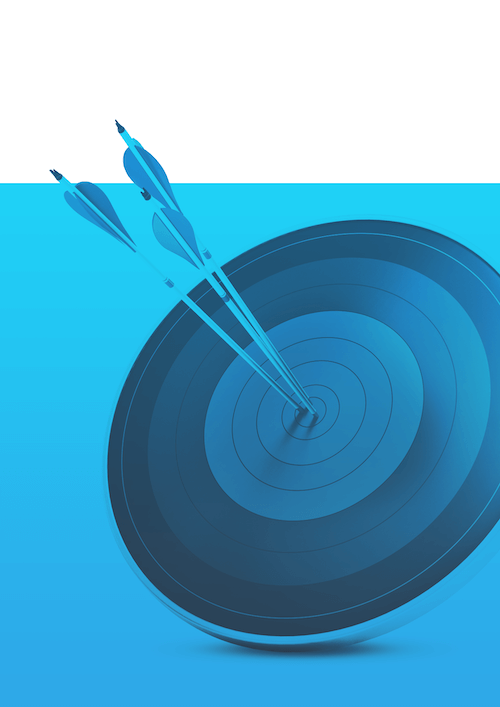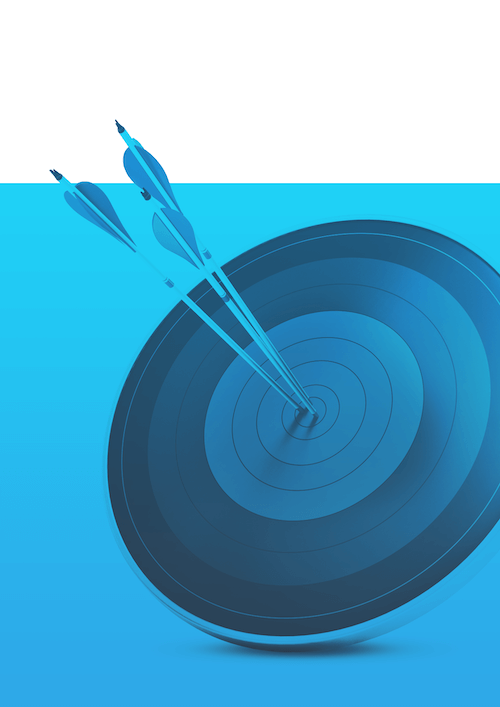 Recommended by Warren Venketas
Use TOST to discover the secrets of successful traders!
BECOME A BETTER TRADER WITH THESE TRADING INSIGHTS
DailyFX provides forex news and technical analysis on the trends that influence the global currency markets.