What's on this page
Timing Trends, Playing Pullbacks with Fibonacci Retracements
Although markets are unpredictable technical indicators may be used as a guide for price action, and Fibonacci retracements are commonly used for the purpose of trend continuation.
This article will investigate that manner of usage, focusing in pullbacks for purposes of trend resumption.
Further your knowledge on trend trading
How to Apply a Fibonacci Retracement
As with any technical indicator, the correct application of Fibonacci is crucial when analyzing market trends. While this tool can be applied to any time frame, the application of Fibonacci Retracements on multiple time frames, may help to improve the accuracy of analysis, forming a holistic view of the market that's being analyzed.
The first step to applying a Fibonacci Retracement would be to identify the current market trend, which is where a longer time-frame chart may come in handy. Once a trader has identified a prominent move off of a long-term chart (usually a high and low of significant value that have yet to be traded through), a Fibonacci Retracement can be drawn by connecting these two points of interest.
With the use of an example below, the EUR/USD monthly chart highlights the Fibonacci Retracement plotted between the September 2000 low and the March 2008 high. These two levels are significant as they represent the historical high and low which have yet to be violated.
From a long-term perspective, these Fibonacci levels have provided support and resistance for the major currency pair, with price action often finding inflections at these zones which have been identified by the Fibonacci retracement.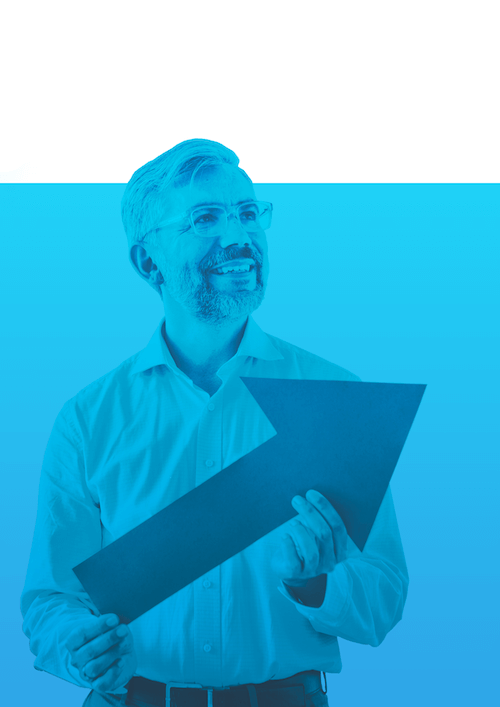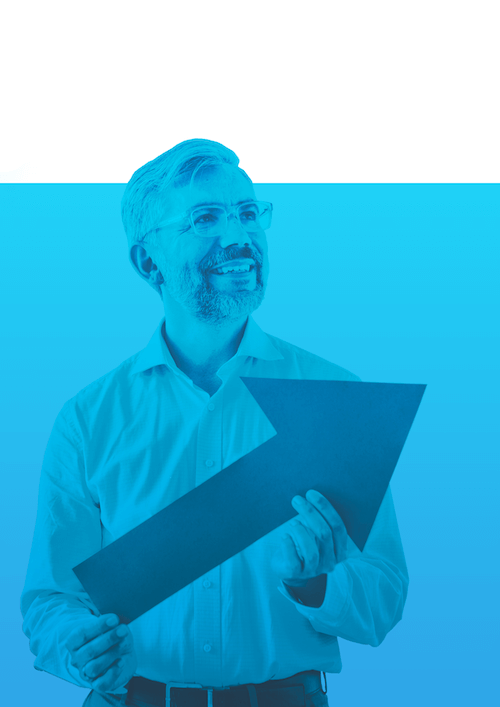 Recommended by Tammy Da Costa
Building Confidence in Trading
EUR/USD Monthly Chart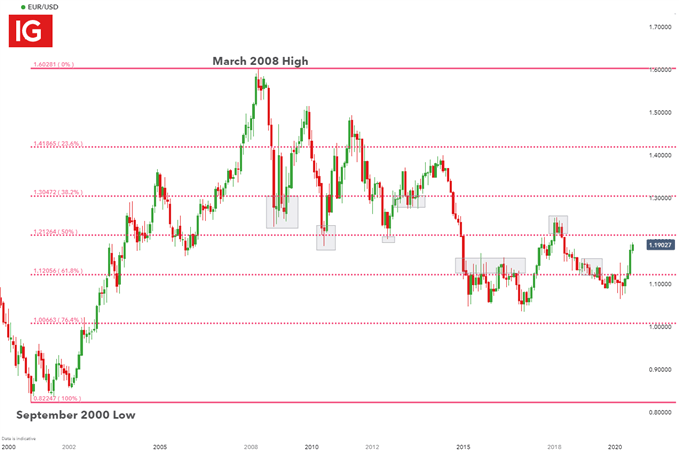 Interpreting Fibonacci Retracement Levels
Once the Fibonacci retracement has been applied to a long-term chart, providing a clear view of the overall market conditions and key levels of support and resistance, a Fibonacci retracement can then be applied to a more recent move of interest using a shorter time frame,to help determine potential entry and exit signals.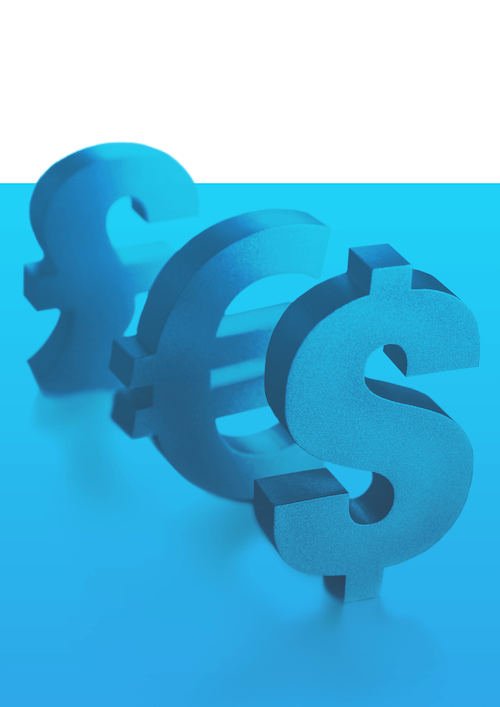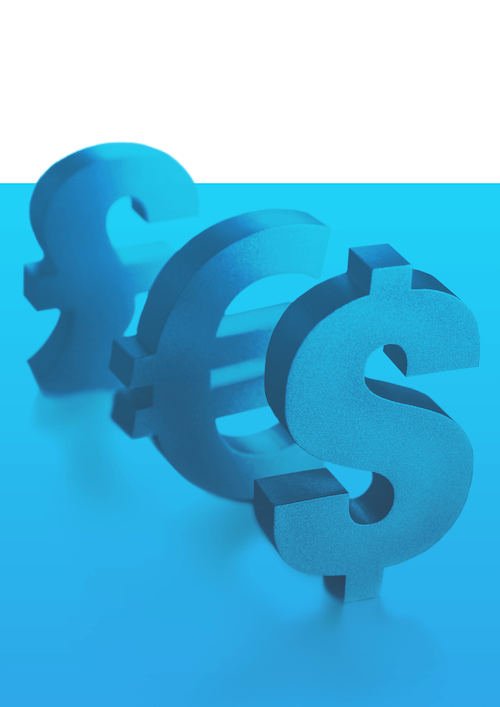 Recommended by Tammy Da Costa
New to Forex? We've got you covered
Now, with the use of a four-hour chart, a Fibonacci retracement can be taken from a more recent major move. From a short-term perspective, the chart highlights how the 61.8% Fibonacci retracement level has provided support, with price action bouncing off this level before continuing the upward move until the 50% retracement came into play. Likewise, price action stalled at the 38.2% retracement level and once this level was broken, the upward trend gained momentum, resulting in a bullish breakout, until reaching the psychological level of 1.2000.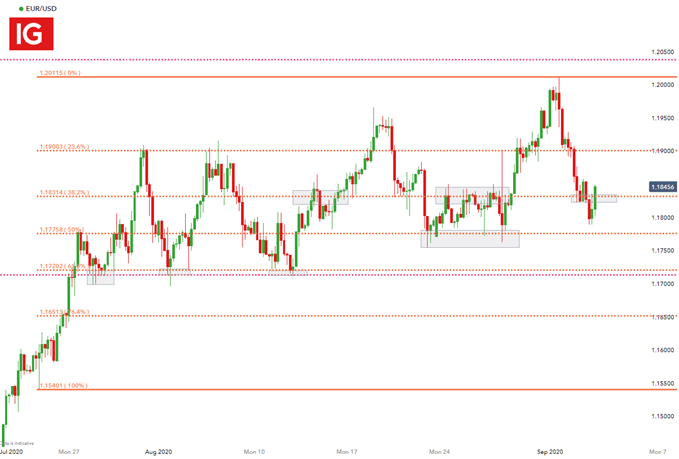 For a trader who has entered into a position, these levels may also be used to manage the risk of the trade. For a trader who is holding a long position, a tight stop may be placed below the previous retracement level, in the event that the trend reverses towards the downside. Likewise, a trader who was holding a short position could place a tight stop above the higher Fibonacci retracement level.
DailyFX provides forex news and technical analysis on the trends that influence the global currency markets.