What's on this page
Long Wicks Can Provide Valuable Trading Signals
Long wick candles are recurrent within the forex market. This makes understanding the meaning behind these candles invaluable to any trader to comprehend the market dynamics during a specific period.
Trading candle wicks is often overlooked due to its simplicity but appreciating this concept can be a great addition to a trader's repertoire. This article will outline:
What are long wick candles?
How to identify a long wick candle on forex charts
What does a long wick tell us in forex?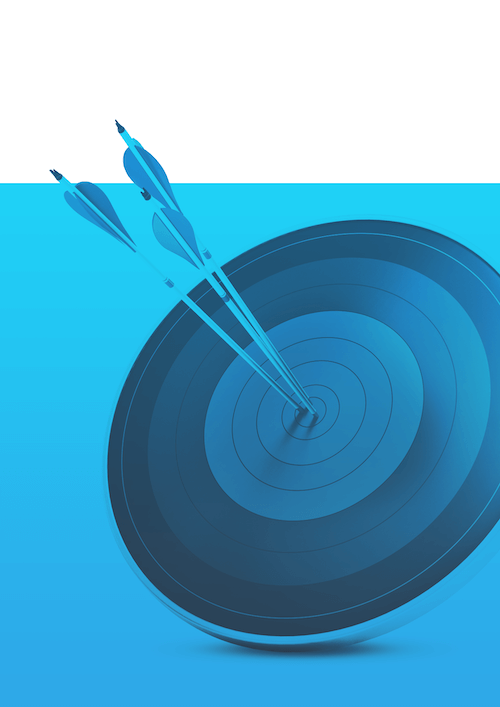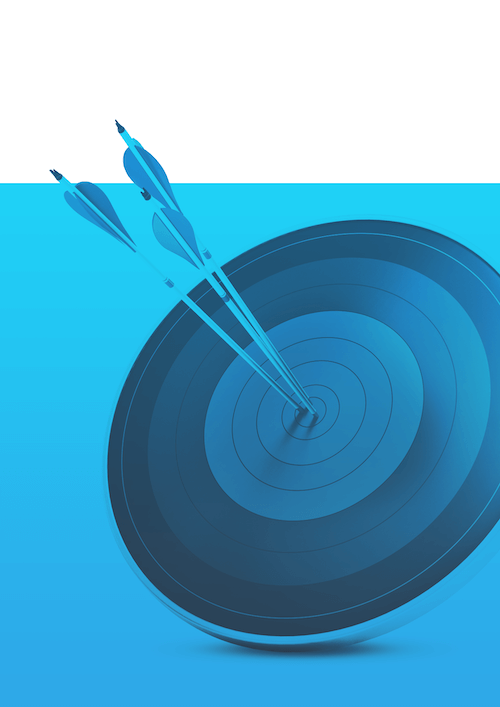 Recommended by Warren Venketas
Traits of Successful Traders
What are long wick candles?
Long wick candles are type of candlestick that have a long wick attached to the candle body. The candle body can be positive or negative, making the long wick appropriate for any type of candlestick.
The length of the candle wick specifies the high and low of price movement within a designated time period. Understanding and trading candlestick wicks can provide forex traders with key tradeable opportunities.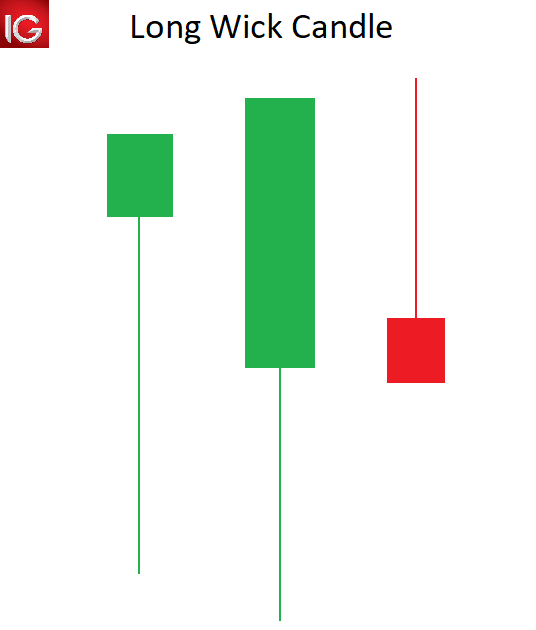 How to identify a long wick candle on forex charts
Locate long wicks above/below a candle that is disproportionately longer than that of the surrounding wicks.
Use

price action

to identify key price levels that may coincide with the long wick, signalling levels of

support/resistance

.
Use the long wicks and key levels to detect potential trade opportunities.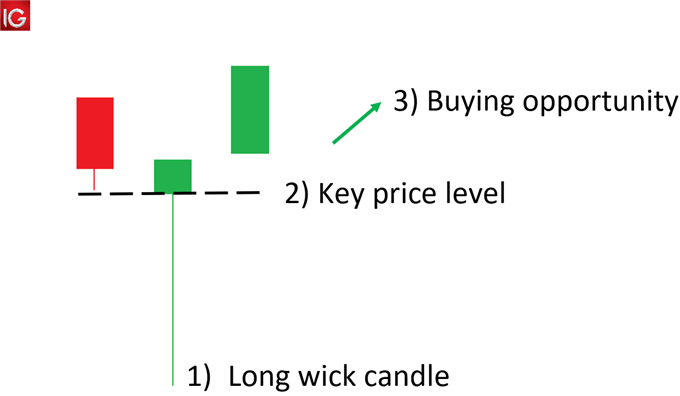 What does a long wick indicate in forex?
A long wick candle, like shooting stars, gravestone Doji's and hammers are part of a "family" of reversal candlesticks. Let's explore an example:
NZD/JPY Long Wick Candles
The chart below shows NZD/JPY on a weekly time frame. Highlighted in blue illustrates long candle wicks prior to a reversal in price movement. In other words, if the longer wick is below the body of the candle, price tends to move up.
Conversely, if the longer wick is above the body of the candle, price tends to move down. These extended wicks (those that are longer relative to other wicks on the chart) provide valuable information for the trader.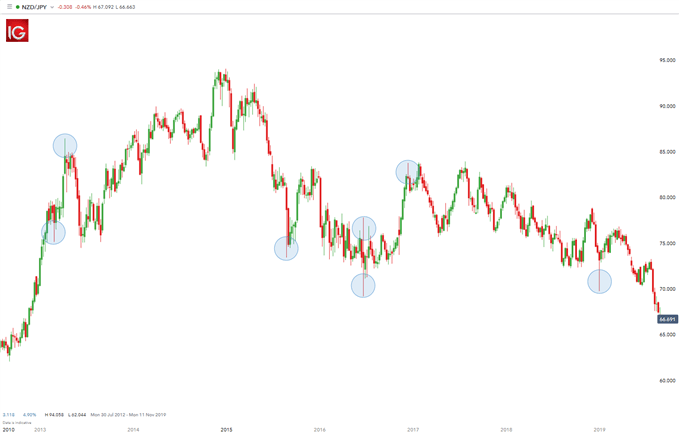 A long wick that extends below a candle signifies that sellers were able to push the price down significantly. However, bulls were able to drive price back up showing buyers strength. Since bulls overpowered the selling pressure by bears, there exists the potential that their strength will carry forward leading to an upwards movement in price. The same principal would apply for long wicks appearing above the candle – in the opposite direction.
How can a trader use long wicks in their trading
The first step when utilizing long wicks is to identify the trend (as mentioned above). If the trend is down, seeing a candle (or several candles) with long wicks on the top points to a stronger potential for price to move down in the direction of the market.
Continuing with the downtrend example, if the pair retraces (moves against the trend) and stalls at a level of resistance or a Fibonacci level, traders will look for long wicks at the tops of the candles forming along that resistance line for two reasons:
Those long wicks indicate the potential for the pair to trade to the downside back in the direction of the trend.
The top of that extended wick provides a very prudent level for a trader to place their stop. The rationale for that stop placement being that buyers pushed price to the top of that wick but could not push it beyond that point. Hence, placing the stop just above that wick is a level that has a lower likelihood of getting hit.
There is often confusion amongst traders as to which time frame of chart this strategy can be applied to. For day traders, they may look at 5- or 10-min time frame charts. Swing traders on the other hand may look at other intraday charts like 2-hour or 4-hour charts.
Are you keen to learn about different trading strategies? Learn more about the top 8 forex trading strategies
Taking note of long wicks forming at levels of support or resistance, especially when they signal movement in the direction of the daily trend, can create a beneficial "edge" for the trader.
Starts in:
Live now:
Dec 25
( 18:12 GMT )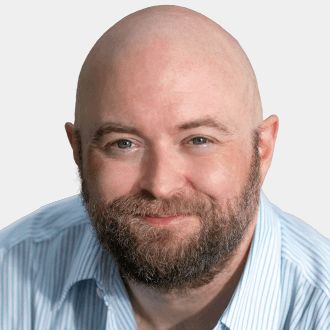 Advantages and Limitations of the Long Wick Candle
| Advantages | Limitations |
| --- | --- |
| Appears frequently in all financial markets | Cannot be traded using the long wick candle in isolation |
| Long wicks are easy to identify | Require supporting evidence to trade such as key price levels or indicators |
Further reading on forex candlestick patterns
DailyFX provides forex news and technical analysis on the trends that influence the global currency markets.